Environmental Management Systems


Efforts regarding Environmental Management Systems
Our semiconductor business is based on the "Fuji Electric Environmental Protection Policy", and we are working to reduce the environmental load of our business activities and products.
In particular, as a preventative measure against global warming, we are manufacturing the way to reduce CO2 emission derived from energy consumption as well as PFC, HFC and SF6 emissions, while also providing products and technologies that can be used to maximize the efficiency of electrical energy.
In order to facilitate these goals, we have constructed an environmental management system based on the international standard ISO14001 to enable us to share tasks and respond quickly to issues, and we are actively carrying out environmental conservation activities, while making sure that each of our employees has a high level of awareness with regards to environmental protection. 
Environmental Certification
In Japan
Standard Name
Certifying Agency
Certification Number
Certification Date
Certificate Expiration Date
Matsumoto Factory
Yamanashi Factory
ISO14001:2015
BV
3583550
Jun. 22, 1998
Jun. 21, 2019
Fuji Electric
Power Semiconductor Co., Ltd.
Iiyama Factory
ISO14001:2015
JACO
EC99J1164
Dec. 28, 1999
Aug.9, 2019
Hokuriku Factory
ISO14001:2004
BV
3532998
Dec. 22, 2000
Sep.14,2018
Omachi Factory
ISO14001:2004
JACO
EC99J1092
Oct. 27, 1999
Oct. 26, 2017
Fuji Electric Tsugaru Semiconductor Co., Ltd.
ISO14001:2004
JACO
EC98J1043
Aug. 25, 1998
Sep.14, 2018
| Overseas | Standard Name | Certifying Agency | Certification Number | Certification Date | Certificate Expiration Date |
| --- | --- | --- | --- | --- | --- |
| Fuji Electric Philippines, Inc. | ISO14001:2015 | TUV SUD | TUV104 05 2963 | May. 27, 2005 | Jul. 20, 2020 |
| Fuji Electric (Malaysia) Sdn. Bhd. | ISO14001:2004 | SGS | SG14/04637 | Aug. 27, 2014 | Aug. 26, 2017 |
| Fuji Electric (Shenzhen) Co., Ltd. | ISO14001:2015 | DNV | 1342-1999-AE-RGC-RvA | Jan. 15, 1999 | Jan.15, 2020 |
Environmental Conscious Design
Semiconductor products, which are built into our customers' products, are designed in awareness of their effects on the environment at the time of use and disposal.
In particular, we will introduce our power semiconductors that contribute to increasing the energy saving performance of our customers' products.
(Source: "Products Contributing to CO2 Reductions" Catalog)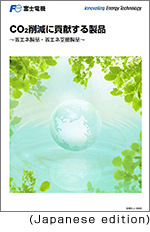 Power IC: Low Standby Power PWM-IC
Features
Built-in low standby power functions
EPA5.0 compliant (US Environmental Protection Agency)
European RoHS Directive compliant
It is possible to design compact and high efficiency power supply with fewer external components.
Various enhanced protective functions (Overvoltage, brownout, two-stage overpower)
Application examples: Various power supply circuits that can be applied to LCDTV, PDPTV, printers, copiers, power adapters, general-purpose power supplies, etc.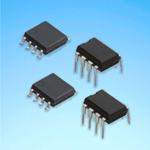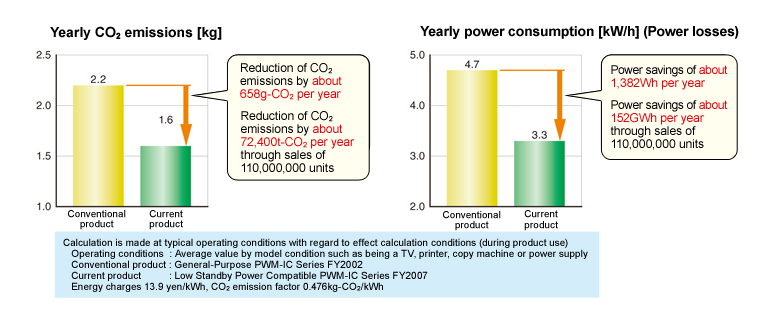 MOS-FET: Super FAP-E3 Series
Features
Has both low loss characteristics and low noise characteristics
Reduces device loss by about 20% while maintaining the same noise
Low on-resistance characteristics
European RoHS Directive compliant
Application examples: Various power supply circuits that can be applied to LCDTV, PDPTV, printers, copiers, power adapters, general-purpose power supplies, etc.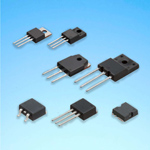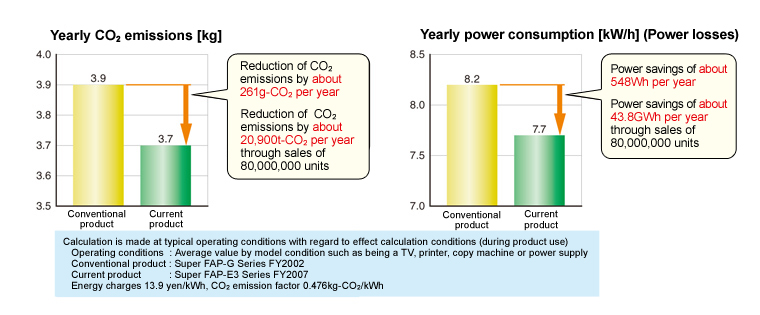 Super J MOS® Series
Features
Enables a higher efficiency in power supplies
Utilizes a SJ structure* and has the industry's highest level on-resistance characteristics
Has the industry's highest level turn-off loss - turn-off dV/dt performance
Easy power supply design
Gate threshold voltage width 3.0V±0.5V guaranteed
Avalanche guarantee
Application examples: Adapters, PC, FPD-TV, LED lighting, telecommunication station power supplies, servers, UPS, PCS
*SJ structure: Superjunction structure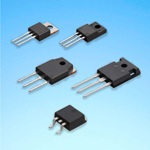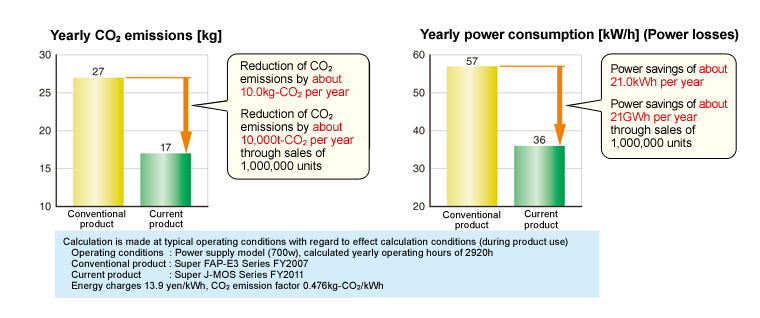 Intelligent Power Module (IPM): 6th Generation IGBT V Series
Features
Achieves low loss and low noise via the latest drive IC
Contributes to the miniaturization of systems via the utilization of a thin and compact package
Prepared full lineups of products with increased current capacity
Changes the alarm signal time width for specific protection factors and outputs the signals
Ensures European RoHS Directive compliance and a highly reliable long life
Application examples: Servo amplifiers, NC machine tools, industrial robots, elevators, solar power conditioners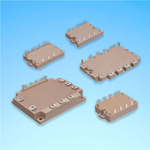 IGBT Module: 6th Generation IGBT V Series
Features
Reduction in power loss of IGBT modules for each generation
Achieves smaller size and enhanced output
Various line-up of package compatible with the products of other companies
European RoHS Directive compliant
Ensures high reliability and a long life
Application examples: Power conversion equipment such as inverters, servo systems, UPS, electric vehicles, electric railways, wind power and solar power generation, etc.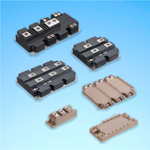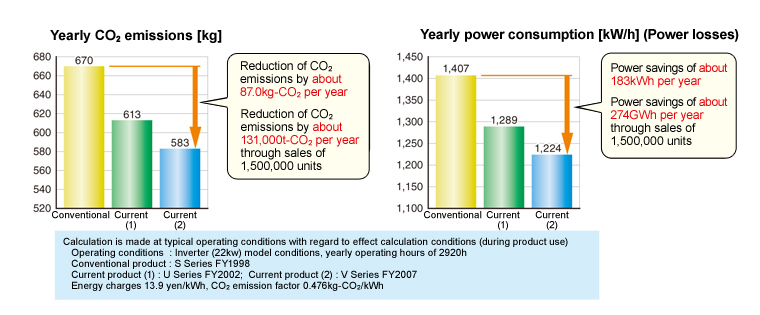 Features
Utilizes a RB-IGBT based on our unique technology
Makes it easy to configure A-NPC 3-level circuits
No additional control is necessary from the one for conventional type of NPC 3-level.
Reduce steady state loss by the reduced number of devices passing current
RoHS Directive compliant
Ensures high reliability and a long life
Application examples: UPS and solar PCS